Superior design can pass a 50,000 # proof load test per AASHTO M-306, H-25, yet weighs only one-third of a comparable cast iron frame and lid.
Unique EPDM seal design prevents infiltration through bolt holes. Four Xylan coated stainless bolts compress the lid to the seal. Underside of lid allows for attachment of flow monitoring devices. The cellular and radio signal transparency of this cover allows for easy transmission of the collected flow data.
Due to its resistance to H2S, composite material is a great solution for manholes where H2S (Hydrogen Sulfide) gas has caused deterioration to traditional cast iron manhole covers.
Optional custom lettering available.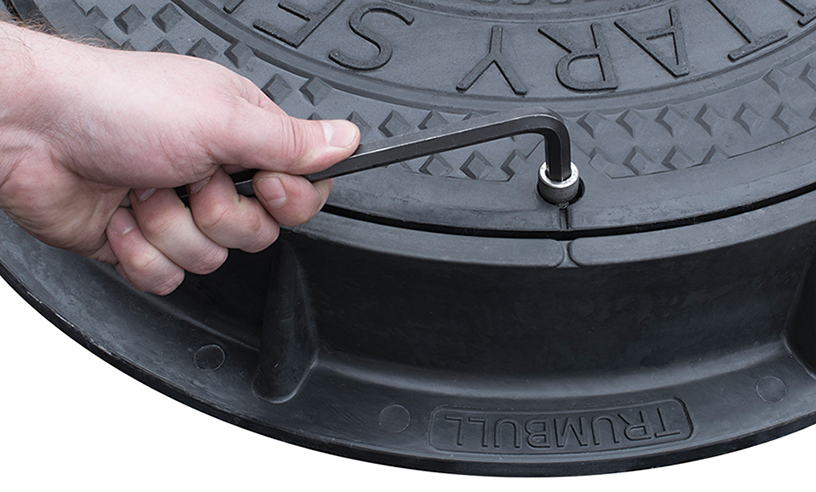 BOLT-DOWN FASTENING / MATCHING ALIGNMENT INDICATORS
All our Frame and Cover Assemblies have threaded inserts in the frame to accept stainless steel screws.
Matching alignment indicators help line up the stainless screws with threaded inserts in the frame. Patent Pending! In addition, the underside has cutouts that cause the lid to drop into the proper "bolt-down" position.
"WATER METER" COMPOSITE FRAME & COVER ASSEMBLIES
Clear Opening
Lid O.D.
Rim Thickness
Fits Frame Types
Antenna Mounting
CBORE Dim.
Worm Gear
Trumbull Item No.
Weight
21-1/2" ID
23-3/4"
1"
Trumbull Frame
Only 367-5468
(SMC)
Retainer Bracket
----
Bolt Down
367-5790
66.1 lbs.
Lid & Frame
30" ID
32"
1-1/4"
Trumbull Frame
Only 367-5794
(SMC)
Retainer Bracket
----
Bolt Down
367-5793
129.0 lbs.
Lid & Frame
"SANITARY SEWER" COMPOSITE FRAME & COVER ASSEMBLIES
Clear Opening
Lid O.D.
Rim Thickness
Fits Frame Types
Antenna Mounting
CBORE Dim.
Worm Gear
Trumbull Item No.
Weight
21-1/2" ID
23-3/4"
1"
Trumbull Frame
Only 367-5468
Retainer Bracket
for flow monitoring
----
Bolt Down
367-5789
66.1 lbs.
Lid & Frame
30" ID
32"
1-1/4"
Trumbull Frame
Only 367-5794
Retainer Bracket
for flow monitoring
----
Bolt Down
367-5792
129.0 lbs.
Lid & Frame