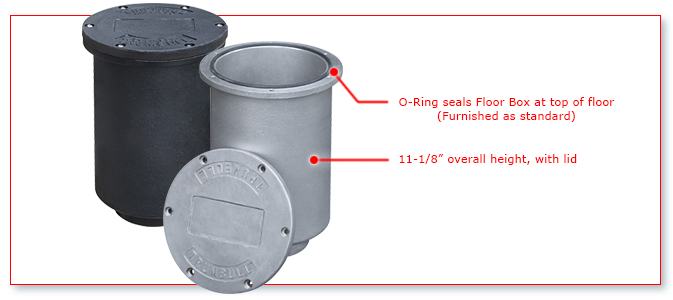 TRUMBULL SEALED FLOOR BOXES are ideal to prevent fluids from penetrating the floor slab from either direction. Top side is sealed by an o-ring, and the bottom side can be sealed by use of optional packing gland. Overall length is 11-1/8″, but the underside is tapped to accept 2-1/2″ NPT steel pipe nipples for floors thicker than 11″. When it's necessary to convert a Floor Box to thicker floors, use a 2-1/2″ pipe nipple, 1/2″ longer than the increase required, as the threads on the underside of the Floor Box are 1/2″ deep.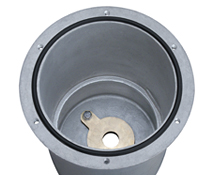 BRASS BUSHING
Aligns extension stem when bottom seal is not utilized (optional)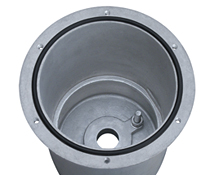 PACKING GLAND
With stainless steel follower seals bottom of Floor Box (optional)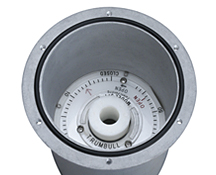 POSITION INDICATOR
Can be used with either configuration at left (optional
Floor Boxes
| Material | Trumbull Item No. | Weight |
| --- | --- | --- |
| Cast Carbon Steel* | 367-4622 | 31.05 lbs. |
| Cast 316 Stainless Steel | 367-4621 | 33.45 lbs. |
* Carbon steel models are EDP coated.
Optional Accessories
| Description | Trumbull Item No. | Weight |
| --- | --- | --- |
| SS Packing Gland | spec/ord | 2.10 lbs. |
| Brass Bushing | spec/ord | 1.75 lbs. |