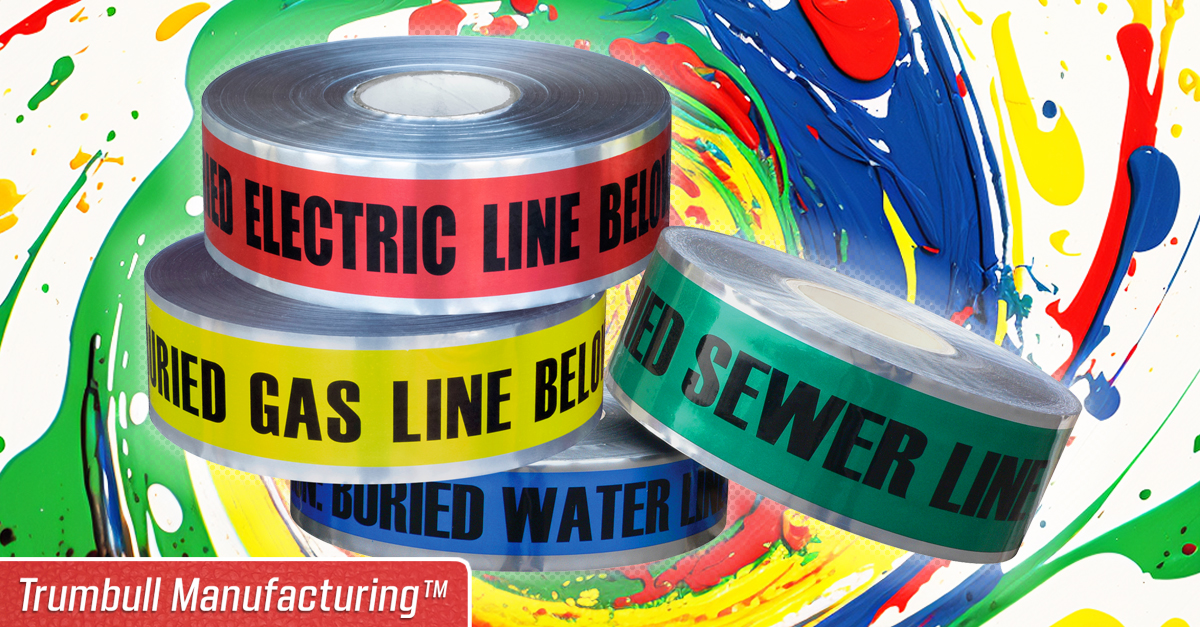 FOR LOCATING NON-METALLIC PIPES BURIED UNDERGROUND
Tape consists of an aluminum core encased in plastic. Stocked in 1,000 foot rolls in standard industry colors.
For installations 30″ or shallower, 2″ wide tape should be used. For deeper installations, 3″ tape should be used.
Use electronic pipe/cable locators for best results (as opposed to valve box or metal locators).
DETECTABLE WARNING TAPES
| Buried Line Type | Width | Color | Trumbull Item No. | Roll Length | Weight Per Roll |
| --- | --- | --- | --- | --- | --- |
| Water Line | 2" | Blue | 364-4950 | 1,000 ft. | 4.00 lbs. |
| Water Line | 3" | Blue | 364-4955 | 1,000 ft. | 5.80 lbs. |
| Water Line | 6" | Blue | 364-4966 | 1,000 ft. | 11.80 lbs. |
| Sewer Line | 2" | Green | 364-4951 | 1,000 ft. | 4.00 lbs. |
| Sewer Line | 3" | Green | 364-4956 | 1,000 ft. | 5.80 lbs. |
| Sewer Line | 6" | Green | 364-4967 | 1,000 ft. | 11.80 lbs. |
| Storm Sewer | 6" | Green | 364-4965 | 1,000 ft. | 11.80 lbs. |
| Reclaimed Water | 3" | Lavender | 364-4958 | 1,000 ft. | 5.80 lbs. |
| Reclaimed Water | 6" | Lavender | 364-4968 | 1,000 ft. | 11.80 lbs. |
| Gas | 3" | Yellow | 364-4972 | 1,000 ft. | 5.80 lbs. |
| Gas | 6" | Yellow | 364-4977 | 1,000 ft. | 11.80 lbs. |
| Chemical | 3" | Yellow | 364-4971 | 1,000 ft. | 5.80 lbs. |
| Electric | 3" | Red | 364-4970 | 1,000 ft. | 5.80 lbs. |
| Electric | 6" | Red | 364-4975 | 1,000 ft. | 11.80 lbs. |
NON-DETECTABLE WARNING TAPES
| Buried Line Type | Width | Color | Trumbull Item No. | Roll Length | Weight Per Roll |
| --- | --- | --- | --- | --- | --- |
| Water Line | 3" | Blue | 364-4940 | 1,000 ft. | 5.80 lbs. |
| Water Line | 6" | Blue | 364-4948 | 1,000 ft. | 11.80 lbs. |
| Sewer Line | 3" | Green | 364-4945 | 1,000 ft. | 5.80 lbs. |
| Sewer Line | 6" | Green | 364-4949 | 1,000 ft. | 11.80 lbs. |
| "Caution" Barricade | 3" | Yellow | 165-5201 | 1,000 ft. | 2.60 lbs. |
| "Danger" Barricade | 3" | Red | 165-5205 | 1,000 ft. | 2.60 lbs. |