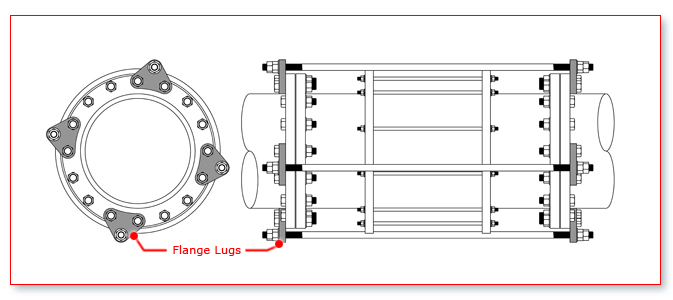 ALSO KNOWN AS "THRUST PLATES", "HARNESS LUGS" OR "GUSSET PLATES"
TRUMBULL FLANGE LUGS are used to prevent separation of plain-end piping components. They are installed on the back sides of ANSI Class 125 B16.1 and Class 150 B16.5 flanges to allow tie rods to span across an unrestrained piping component. One example is with a flexible coupling as illustrated below.

Trumbull Flange Lugs are also used with rubber expansion joints to limit their expansion. Uncontrolled expansion can lead to failure of rubber expansion joints.
When using threaded ductile iron flanges, check for clearance of the Flange Lug inner radius with the flange hub O.D. Two flange lugs are used in conjunction with a tie rod, two flat washers and four hex nuts to comprise one set. At least two sets are required per joint. Longer flange bolts are required at the flange lug to accept the plate thickness.
Available in ASTM A36 carbon steel plate and 304 stainless steel. Carbon steel lugs are supplied with a Tnemec 37-77 red primer coating; other coatings and finishes are available upon request. Flange Lugs for Class 250 / 300 are available upon request.
CARBON STEEL FLANGE LUGS
| Carbon Steel | Flange Size | Plate Thickness | Tie-Rod Size | Weight |
| --- | --- | --- | --- | --- |
| 364-4104 | 4" | 1/2" | 5/8" | 0.94 lbs. |
| 364-4106 | 6" | 1/2" | 5/8" | 1.26 lbs. |
| 364-4107 | 8" | 1/2" | 5/8" | 1.56 lbs. |
| 364-4108 | 10" | 3/4" | 3/4" | 2.91 lbs. |
| 364-4109 | 12" | 3/4" | 3/4" | 3.27 lbs. |
| 364-4110 | 14" | 3/4" | 3/4" | 3.90 lbs. |
| 364-4111 | 16" | 1" | 1" | 5.09 lbs. |
| 364-4112 | 18" | 1" | 1" | 5.68 lbs. |
| 364-4113 | 20" | 1" | 1" | 5.31 lbs. |
| 364-4114 | 24" | 1-1/8" | 1-1/8" | 7.44 lbs. |
| 364-4115 | 30" | 1-1/8" | 1-1/8" | 10.90 lbs. |
| 364-4116 | 36" | 1-1/4" | 1-1/4" | 12.10 lbs. |
| 364-4117 | 42" | 1-1/2" | 1-1/4" | 14.50 lbs. |
| 364-4118 | 48" | 1-1/2" | 1-1/4" | 16.50 lbs. |
STAINLESS STEEL FLANGE LUGS
| Stainless Steel | Flange Size | Plate Thickness | Tie-Rod Size | Weight |
| --- | --- | --- | --- | --- |
| 364-4124 | 4" | 1/2" | 5/8" | 0.94 lbs. |
| 364-4126 | 6" | 1/2" | 5/8" | 1.26 lbs. |
| 364-4127 | 8" | 1/2" | 5/8" | 1.56 lbs. |
| 364-4128 | 10" | 3/4" | 3/4" | 2.91 lbs. |
| 364-4129 | 12" | 3/4" | 3/4" | 3.27 lbs. |
| 364-4130 | 14" | 3/4" | 3/4" | 3.90 lbs. |
| 364-4131 | 16" | 1" | 1" | 5.09 lbs. |
| 364-4132 | 18" | 1" | 1" | 5.68 lbs. |
| 364-4133 | 20" | 1" | 1" | 5.31 lbs. |
| 364-4134 | 24" | 1-1/8" | 1-1/8" | 7.44 lbs. |
| spec/ord | 30" | 1-1/8" | 1-1/8" | 10.90 lbs. |
| spec/ord | 36" | 1-1/4" | 1-1/4" | 12.10 lbs. |
| spec/ord | 42" | 1-1/2" | 1-1/4" | 14.50 lbs. |
| spec/ord | 48" | 1-1/2" | 1-1/4" | 16.50 lbs. |