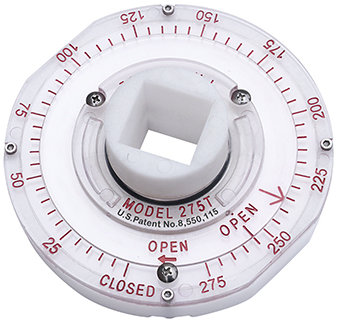 ELIMINATES BROKEN VALVE STEMS CAUSED BY OVER-OPENING OR OVER-CLOSING!
Field-adjustable for any number of turns within the range of each model
Constructed of heavy-duty, non-corrosive Dupont Delrin polymer, providing high-impact resistance even in cold climates
Double O-ring seals keep out water and dirt
3rd-party tested to over 1 million revolutions
Provided with stainless steel hardware
Also available for use above ground in the floor or with Wall Brackets 
WHY USE A TELESCOPIC STEM?
Telescopic stems eliminate the need for precise field measurement usually required for fitting extension stems. They also provide for ground movement caused by freezing and thawing.

OPEN LEFT
Turns counter-clockwise to open
Indicator has black permanently molded markings
| Trumbull Item No. | Model Number | Number of Turns |
| --- | --- | --- |
| 367-9394 | 57T | 1 through 57 turns |
| 367-9396 | 275T | 1 through 275 turns |
| 367-9400 | 870T | 1 through 870 turns |
OPEN RIGHT
Turns clockwise to open
Indicator has red permanently molded markings
| Trumbull Item No. | Model Number | Number of Turns |
| --- | --- | --- |
| 367-9393 | 57T | 1 through 57 turns |
| 367-9395 | 275T | 1 through 275 turns |
| 367-9399 | 870T | 1 through 870 turns |