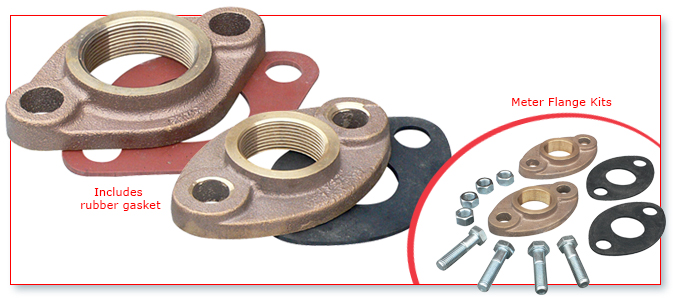 Certified by UL for compliance with NSF/ANSI 61 and NSF/ANSI 372, per the U.S. Safe Drinking Water Act.
Meter Flanges are sold as a kit which includes two flanges, two gaskets and four bolts and nuts. They can also be purchased individually, which includes one flange and one gasket.
Our Meter Flanges are made from cast brass which meets UNS C89833, and can be supplied with either zinc-plated, brass, or stainless steel fasteners.
METER FLANGE KITS
| Trumbull Item No. | Size | Fits Meter | Fastener Material | Weight |
| --- | --- | --- | --- | --- |
| 379-2015 | 1-1/2" | 1-1/2" | zinc-plated | 5.40 lbs. |
| 379-2025 | 1-1/2" | 1-1/2" | brass | 5.40 lbs. |
| 379-2030 | 1-1/2" | 1-1/2" | stainless steel | 5.40 lbs. |
| 379-2016 | 2" | 2" | zinc-plated | 7.10 lbs. |
| 379-2026 | 2" | 2" | brass | 7.10 lbs. |
| 379-2031 | 2" | 2" | stainless steel | 7.10 lbs. |
INDIVIDUAL METER FLANGES
| Trumbull Item No. | Size | Fits Coupling | Weight |
| --- | --- | --- | --- |
| 379-1015 | 1-1/2" | 1-1/2" | 2.00 lbs. |
| 379-1016 | 2" | 2" | 2.45 lbs. |