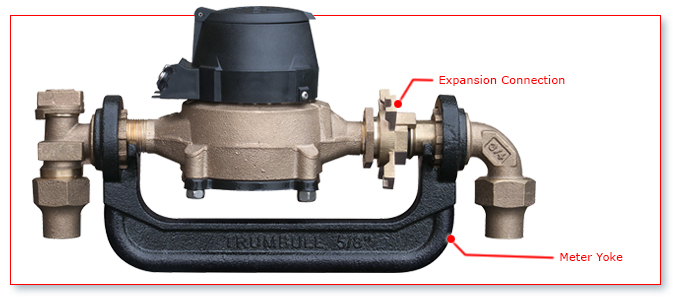 TRUMBULL EXPANSION CONNECTIONS are screwed onto one end of a meter and allow for easy installation and removal from Meter Yoke. Turning the Handwheel causes expansion into the rubber gaskets in the Yoke, creating a water-tight seal.
Nose Piece and Barrel are in contact with water and are cast from UNS C89833 brass. Lead content is less than .25%, in compliance with the Reduction of Lead in Drinking Water Act. Handwheel does not contact water and is cast from UNS C83600.
Both the flat seal yoke gaskets and bevelled seal gasket are EPDM. Expansion seal gasket between Barrel and meter is fiber, however for polymer meters a soft rubber gasket is required, please specify on order. All gaskets are NSF-61.
Dimensions of Yokes and Expansion Connections are consistent and interchangeable with other industry manufacturers.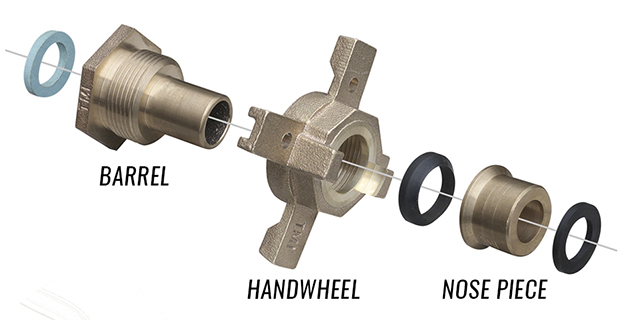 | Trumbull Item No. | Meter Size | Size | Type | Weight |
| --- | --- | --- | --- | --- |
| 368-0630 | 5/8" | 5/8" | Handwheel | 0.72 lbs. |
| 368-0632 | 5/8" x 3/4" & 3/4" | 3/4" | Handwheel | 0.93 lbs. |
| 368-0635 | 1" | 1" | Handwheel | 1.61 lbs. |