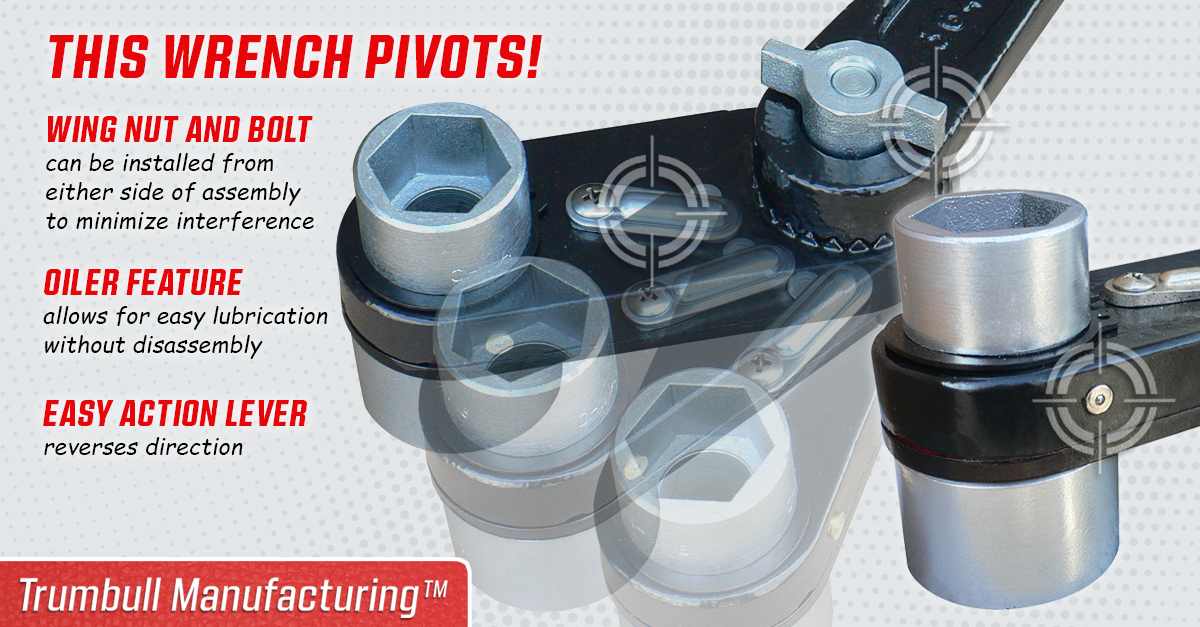 Heavy-duty double socket incorporates a through design which can tighten nuts on long bolts or all-thread rod without bottoming out.
Double socket permits use on either 5/8″ or 3/4″ Heavy Hex Nuts without changing sockets. Also eliminates common misplacement of loose sockets and introduction of dirt into the mechanism while changing sockets in the field.
Mechanism design allows short stroke operation.
Heavy-duty ratchet mechanism is lubricated and enclosed in a sealed ductile iron casting to prevent debris from jamming.
Wrench is 16″ O.A.L.
Painted black.
LARGE SOCKET
fits heavy hex nuts on 3/4″ bolts, used on 4″ thru 24″ Mechanical Joints.
SMALL SOCKET
fits heavy hex nuts on 5/8″ blots used on clamps, couplings, saddles and 3″ Mechanical Joints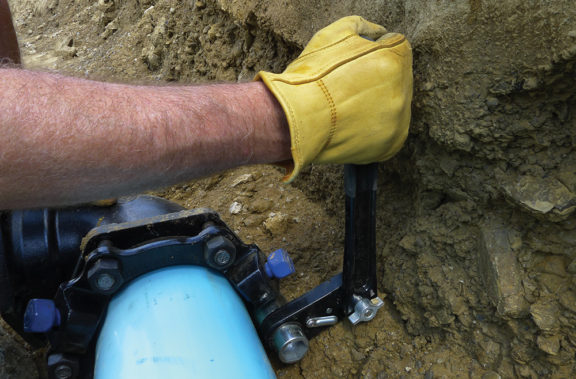 | Trumbull Item No. | Large Socket | Small Socket | Large Socket Fits Hex Size | Small Socket Fits Hex Size | Example of Large Socket Applications | Example of Small Socket Applications | Product Weight |
| --- | --- | --- | --- | --- | --- | --- | --- |
| 364-9984 | 1-1/4" | 1-1/16" | 3/4" Heavy | 5/8" Heavy | 4" thru 24" MJ Ftgs., 3/4" Hex Bolts with Heavy Hex | 3" MJ Ftgs., Cast Couplings, Clamps, Tapping Sleeves | 4.75 lbs. |
| 364-9955 | 36mm | 30mm | M24 | M20 | 400mm - 500mm Pipe Flanges | 200mm - 350mm Pipe Flanges | 2.15 KG |