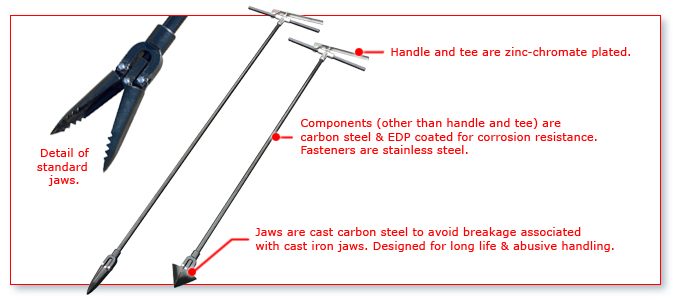 Valve and curb boxes frequently get filled up with dirt, stones and other foreign objects that prevent keys from accessing valves or curb stops. These heavy-duty tools are designed for cleaning out 2-1/2″ and 3″ Buffalo curb boxes as well as 4-1/4″ & 5-1/4″ Buffalo valve boxes, without excavation.
Squeeze the lever to open the jaws; release the lever to close. Available in 5′, 6′, 7′, 8′, 10′ and 12′ lengths. Replacement jaw kits can easily be installed in the field. Our replacement jaws can be interchanged on tools of other popular manufacturers.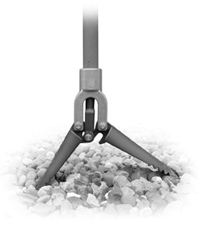 COMPETITIVE MODEL
can "over-open" and become disengaged, requiring the tool to be removed from the box and be adjusted back into place.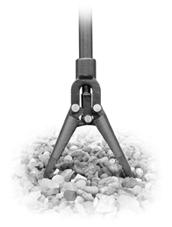 TRUMBULL DESIGN
jaw design prevents
over-opening and disengagement.
CURB BOX CLEANERS - STANDARD JAWS
Remove small objects, dirt, stones, sand & mud
| Trumbull Item No. | Length | Weight |
| --- | --- | --- |
| 367-9150 | 5 foot length | 10.50 lbs. |
| 367-9151 | 6 foot length | 12.10 lbs. |
| 367-9152 | 7 foot length | 13.70 lbs. |
| 367-9153 | 8 foot length | 15.30 lbs. |
| 367-9155 | 10 foot length | 18.50 lbs. |
| 367-9157 | 12 foot length | 21.70 lbs. |
CURB BOX CLEANERS - SCOOP JAWS
Designed to remove large amounts of debris, sand & mud
| Trumbull Item No. | Length | Weight |
| --- | --- | --- |
| 367-9170 | 5 foot length | 10.60 lbs. |
| 367-9171 | 6 foot length | 12.20 lbs. |
| 367-9172 | 7 foot length | 13.80 lbs. |
| 367-9173 | 8 foot length | 15.40 lbs. |
| 367-9175 | 10 foot length | 18.60 lbs. |
| 367-9177 | 12 foot length | 21.80 lbs. |
JAW REPLACEMENT KITS
Includes two jaws and two pins
| Trumbull Item No. | Jaw Type | Opens To | Weight |
| --- | --- | --- | --- |
| 367-9162 | Standard Jaws | 5-1/4" | 0.55 lbs. |
| 367-9182 | Scoop Jaws | 5-1/4" | 0.65 lbs. |