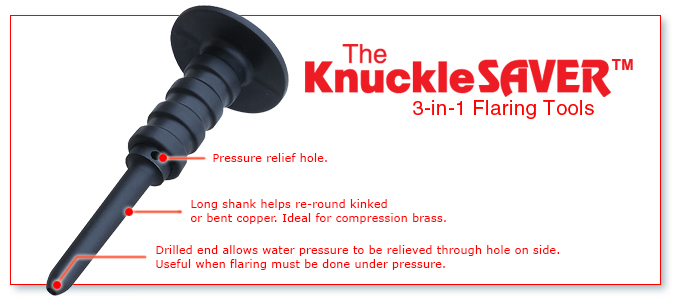 3-in-1 Flaring Tools
FLARES Type K copper
RE-ROUNDS kinked or bent copper
RELIEVES pressure when used under pressure
Whether you are flaring Type K soft copper, or using it to "re-round" copper for use with compression fittings, the KnuckleSAVER™ flaring tool provides safety from injuries.
The shank of the flaring tool is drilled out and provided with a pressure relieving hole, to allow for use with lines that cannot be shut down.
Which Would You Rather Use?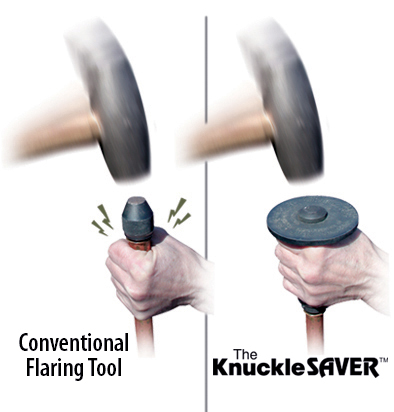 | Trumbull Item No. | Size | Model | Weight |
| --- | --- | --- | --- |
| 368-0500 | 3/4" | FRP-075 | 2.25 lbs. |
| 368-0502 | 1" | FRP-100 | 2.65 lbs. |
| 368-0504 | 1-1/2" | FRP-150 | 4.50 lbs. |
| 368-0506 | 2" | FRP-200 | 6.50 lbs. |
BRASS HAMMER
| Trumbull Item No. | Nominal Size | Weight |
| --- | --- | --- |
| 207-7088 | 3 lbs. | 3.20 lbs. |