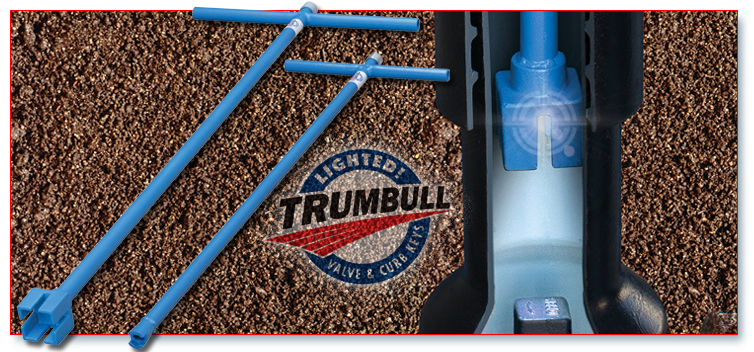 Trumbull Lighted Keys make it easier for the operator to see the 2″ nut on a main valve or t-head of a curb stop. Both models feature handles and shafts fabricated from Sch 40 steel pipe and extra strength tool castings. Light is recessed to protect from damage. Light also is designed to be water-resistant and shock-proof. LED bulb is rated for 100,000 hours. AAAA batteries can easily be replaced in the field.
Lighted Main Valve Keys
Handles and shafts fabricated from 1″ Sch 40 steel pipe.
Cast steel casting fits 2″ square operating nut.
Bottom casting has mud slots that prevent packing of dirt inside socket.
Lighted Curb Keys
Handles and shafts fabricated from 3/4″ Sch 40 steel pipe.
Combination curb key casting fits t-head of curb stops up to 2″, standard pentagon nut and various curb box rods.
The curb key casting has an OD of 1-1/4″ and is designed for Buffalo curb boxes, meter boxes, or arch pattern boxes with 1-1/2″ or larger upper pipe sections.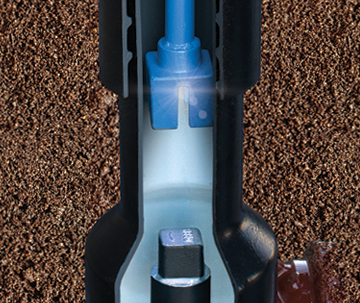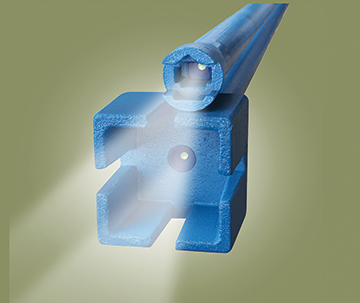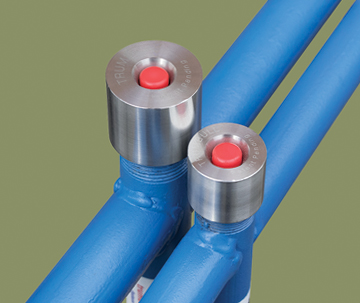 LIGHTED MAIN VALVE KEYS
| Trumbull Item No. | Length | Weight |
| --- | --- | --- |
| 367-5118 | 4 ft. | 12.80 lbs. |
| 367-5119 | 5 ft. | 14.10 lbs. |
| 367-5120 | 6 ft. | 15.40 lbs. |
| 367-5123 | 8 ft. | 18.00 lbs. |
LIGHTED CURB KEYS
| Trumbull Item No. | Length | Weight |
| --- | --- | --- |
| 367-4391 | 3 ft. | 6.35 lbs. |
| 367-4392 | 4 ft. | 6.40 lbs. |
| 367-4397 | 6 ft. | 8.45 lbs. |