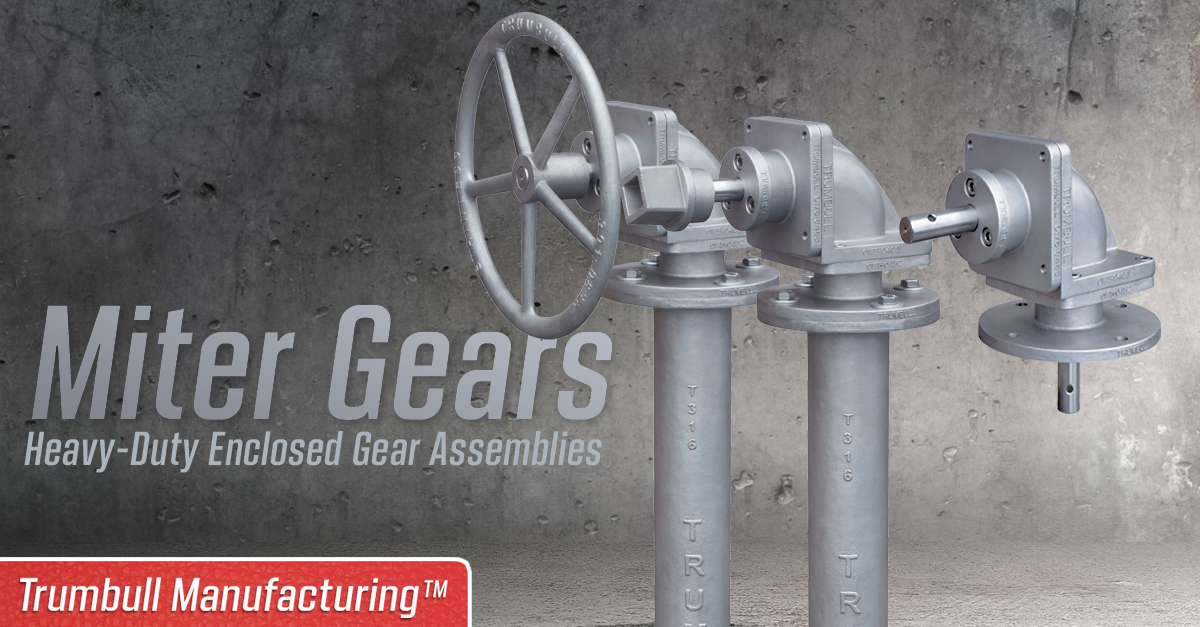 Heavy-Duty, Enclosed Gear Assemblies
TRUMBULL MITER GEARS are designed to fulfill the following primary functions:
To be used as an add-on component to Trumbull Floorstands or Pedestals
To be mounted directly to valves where a 90 degree change in the input shaft direction is required
For use as a stand-alone component in a valve operating assembly with rotating elements, such as extension stems, where the installed conditions require one or more 90 degree changes of direction
Housings are cast 316 stainless steel or ductile iron 65-45-12 with a Tnemec N140-1211 two-part epoxy, NSF-61 certified exterior coating. The gears are case hardened steel; the gear shafts and fasteners are 316 stainless steel.
Trumbull Miter Gear Assemblies are provided standard with a recessed grease fitting for easy maintenance and Buna-N O-ring seals on each end adapter.
Gear Ratio = 1:1, Input/Output Shaft Diameter = 0.984″.
3 Standard End Adapters = 6 Possible Combinations!
| End Configurations | Model# | Weight | Typical Usage for Each End Adapter |
| --- | --- | --- | --- |
| 8" Round x 3-1/2" Round | MG1A | 39.00 lbs. | 8" Round - mates to our Floorstands |
| 8" Round x 3-1/2" Round | MG1A | MG1A | 3-1/2" Round - for use with handwheel or nut operators |
| 8" Round x 4-1/4" Square | MG1B | 42.00 lbs. | 8" Round - mates to our Floorstands |
| 8" Round x 4-1/4" Square | MG1B | 42.00 lbs. | 4-1/4" Square - adapts for guide, bracket & motor mountings |
| 8" Round x 8" Round | MG1C | 46.00 lbs. | Both 8" Round ends mate to our Floorstands & other fabrications such as torque tubes |
| 4-1/4" Square x 3-1/2" Round | MG2A | 37.00 lbs. | 4-1/4" Square - adapts for guide, bracket & motor mountings |
| 4-1/4" Square x 3-1/2" Round | MG2A | 37.00 lbs. | 3-1/2" Round - for use with handwheel or nut operators |
| 4-1/4" Square x 4-1/4" Square | MG2B | 35.00 lbs. | Both 4-1/4" Square ends easily adapt for guide, bracket & motor mountings |
| 3-1/2" Round x 3-1/2" Round | MG3A | 32.00 lbs. | Both 3-1/2" Round ends for use with either extension stem assemblies, handwheel, or nut operators |