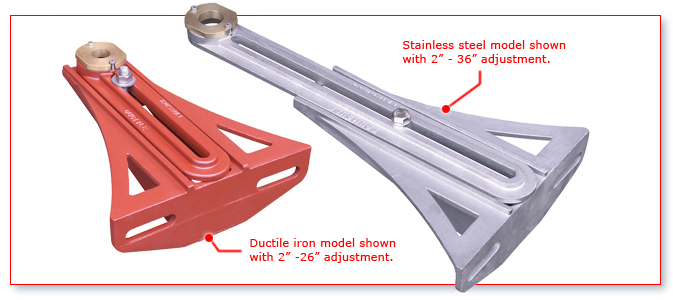 TRUMBULL STEM GUIDES are designed for installation in treatment plants and pump stations to provide support for valve extension stems. These Stem Guides are adjustable for stems as close to the wall as 2″, or as far away as 26″, 36″ or 48″. All ductile iron castings coated with Tnemec N140-1211 epoxy (complies with NSF 61).
Stem Guides are generally recommended at 6′ to 8′ intervals. Bronze bushings can be drilled up to a 2-1/8″ bore diameter for 2″ O.D. stems. By removing the bushing larger stems can be accommodated, up to 2-3/8″ O.D. Click HERE for Stem Guides for larger diameter stems.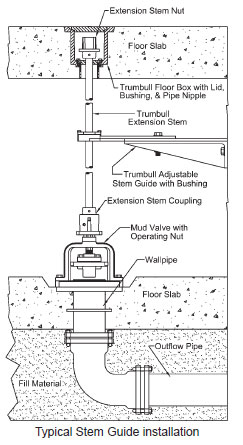 Ordering Instructions
Quantity required
Provide the Trumbull item number for the model you require (shown above)
O.D. of stem being used, or desired bushing material (shown below) and hole size
Ductile Iron
316 Stainless Steel
Adjustable Range
Trumbull Item No.
Weight
Trumbull Item No.
Weight
2" to 26"
367-4960
24.35 lbs.
367-5960
24.80 lbs.
2" to 36"
367-4970
27.90 lbs.
367-5970
28.70 lbs.
36" to 48"
367-4974*
38.00 lbs.
367-5974*
37.00 lbs.
* Adjustable arm for 36" to 48" range will be fabricated. Stem Guides for stems up to 72" away from wall can be fabricated from either carbon steel or stainless steel, please inquire.
Bushings also available in:
No-lead brass, per C89833
Ultra High Molecular Weight Polyethylene (UHMWPE)
NSF 61 approved polymer (Ryton R4)