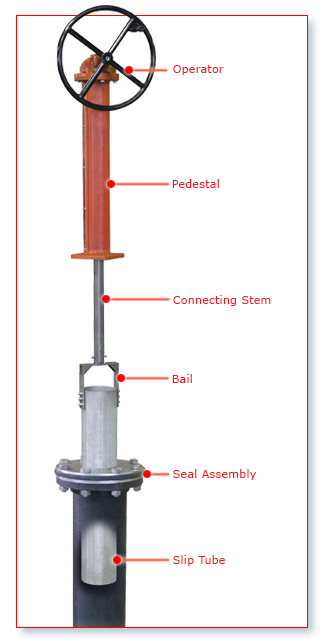 Trumbull Telescoping Valves are designed to regulate the level of fluids in containment structures such as holding chambers, tanks, ponds & lagoons. An example of an application might be to regulate the effluent level in a settling basin. Also known as "Sludge Draw-off Valves" or "Decanting Valves", the valve assembly consists of a lifting mechanism (operator), connecting stem and a slip (drain) tube which travels vertically inside a fixed vertical pipe. Utilizing the operator, the slip tube is raised or lowered to maintain the desired fluid level within the containment structure.
Trumbull offers Telescoping Valves in either Rising or Non-Rising Stem designs. A variety of operators are available such as, handwheel, rack & pinion, bevel gear and electric motor operators. The slip tubes are available in a variety of sizes and materials, the most common materials being 304 stainless steel and Sch 40 PVC. Other materials are available upon application or request. Slip tubes are typically supplied with V-notch, plain end or funnel tops. Scum baffles can also be added to the top of the slip tube, if requested.
Trumbull's seal assembly consists of a stainless steel retainer plate, a seal plate and two (2) Buna-N wiper gaskets. The assembly is designed so that the wiper gaskets can easily be replaced in the field without disassembling the Telescoping Valve. Additional seal elastomers available upon request.
Operator pedestals are available in 26" & 32" cast ductile iron Indicating Style, 32" cast ductile iron Non-Indicating Style and 32" cast stainless steel Indicating Style. Other custom-fabricated styles and materials are available upon request. Offset wall brackets are available in either cast ductile iron or cast 316 stainless steel.
Lifting bails are fabricated from 304 stainless steel material, and are mounted to the slip tubes with stainless steel fasteners. Threaded operating stems and extension stems are made from 304 stainless steel material unless otherwise specified.