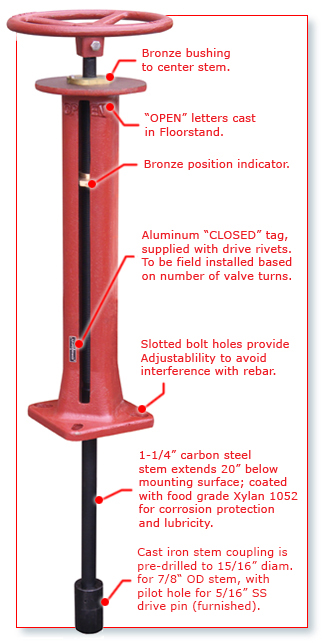 TRUMBULL 30″ INDICATING FLOORSTANDS are designed for installation in treatment plants and pump stations to allow operation of valves at a lower elevation. Floorstand body is ductile iron for increased torque capacity. Set screw secures handwheel to stem. Flange can be machined to facilitate mounting of actuator, if required (also available with gear operators). Our standard Floorstand is shown to the left (click HERE for PDF of custom Floorstand options). Stocked for "open left" valves; also available for "open right" valves. Standard stem threading allows up to 140 turns; optional threading allows up to 563 turns. Stainless drive pin supplied with assembly.
Ordering Instructions
Quantity required
Floorstand item number: 367-2420
D. of extension stem being used, for drilling of connecting couplings
Wall Bracket, if required

Ductile iron item number:367-2451
Stainless steel item number: 367-2461
See also our 36″ Floorstands in ductile iron and stainless steel with sealed indicating slots.