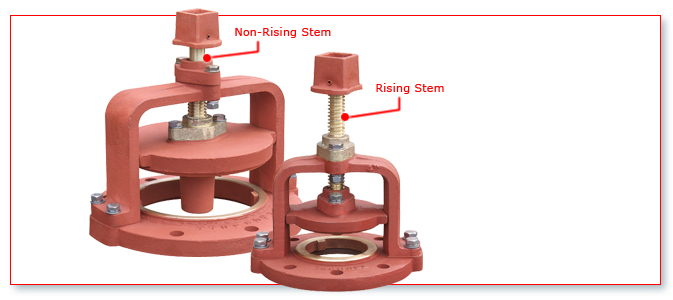 Certified to NSF-61 & NSF-372 in U.S.A. & Canada
Trumbull Mud Valves are designed primarily for use in settling tanks of water and wastewater treatment plants. They are for low pressure applications only; consult Trumbull for special requirements. Their intended use is to drain tanks for maintenance or cleaning.
Mud valves are furnished with a 2″ square operating nut; however, they can be supplied with optional extension stem or handwheel, click HERE to view.
This valve series uses bronze seats in the body and gate (also available with resilient seat). The cast iron body assembly features manganese bronze stems and guides for use in submerged installations. The fasteners are furnished in stainless steel to prevent corrosion from years of submerged service.
Valve position indicators are recommended with mud valves, to provide a visual indication of the valve's position. See position indicator installed in floor box HERE or position indicator installed on a wall bracket HERE.
Nuts, bolts and gaskets for mounting to floor pipe are NOT furnished but can be ordered separately. Ductile iron components are coated with Tnemec N140-1211 epoxy, per NSF 61.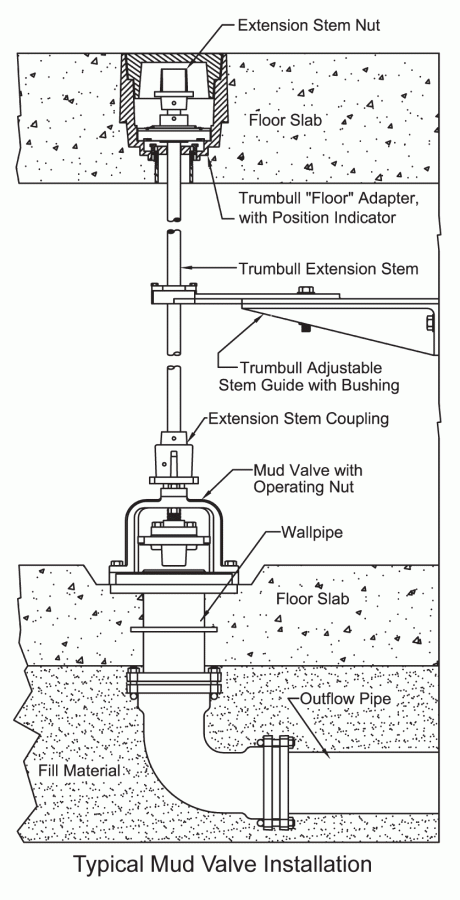 NON-RISING STEM
| Size | Trumbull Item No. | Weight |
| --- | --- | --- |
| 3" | 367-1414 | 26.00 lbs. |
| 4" | 367-1415 | 31.00 lbs. |
| 6" | 367-1416 | 47.00 lbs. |
| 8" | 367-1418 | 76.00 lbs. |
| 10" | 367-1428 | 95.00 lbs. |
| 12" | 367-1430 | 130.00 lbs. |
| 14" | 367-1431 | 142.00 lbs. |
| 16" | 367-1432 | 169.00 lbs. |
| 18" | 367-1433 | 256.00 lbs. |
| 20" | 367-1434 | 281.00 lbs. |
| 24" | 367-1435 | 450.00 lbs. |
RISING STEM
Size
Trumbull Item No.
Weight
3"
367-1421
25.00 lbs.
4"
367-1420
30.00 lbs.
6"
367-1423
46.00 lbs.
8"
367-1425
73.00 lbs.
10"
367-1494
90.00 lbs.
12"
367-1495
130.00 lbs.
14"

🔴 Consult Trumbull for Availability

16"

🔴 Consult Trumbull for Availability

18"

🔴 Consult Trumbull for Availability

20"

🔴 Consult Trumbull for Availability

24"

🔴 Consult Trumbull for Availability