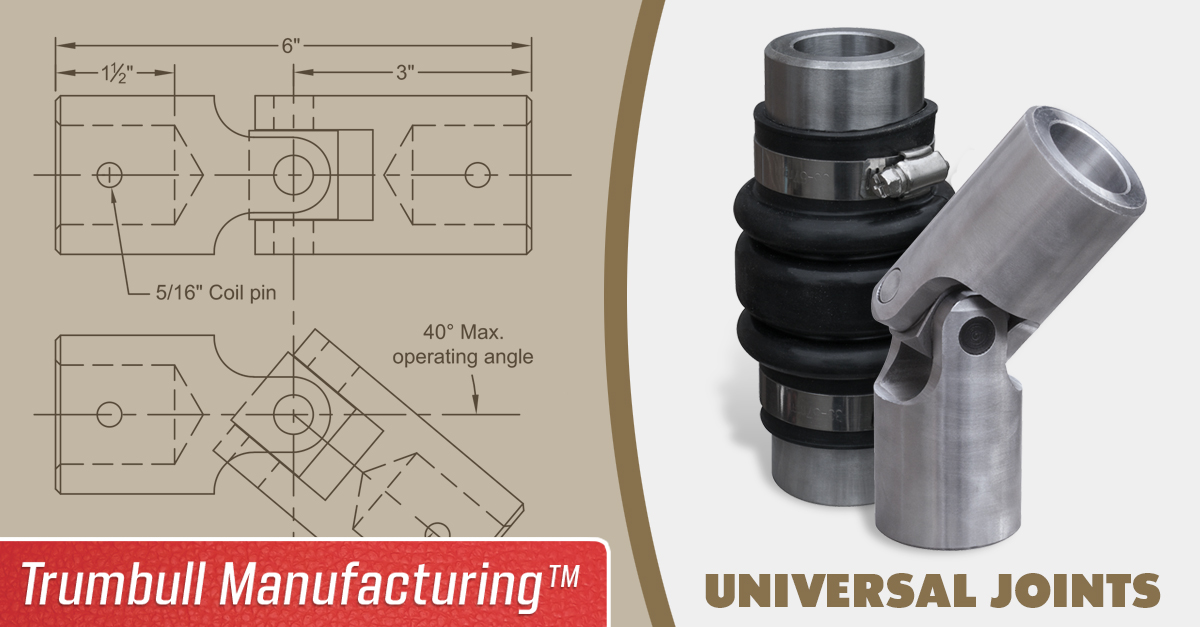 TRUMBULL HEAVY-DUTY UNIVERSAL JOINTS are the answer to many common misalignment problems often encountered in valve applications. Access to valves in treatment plants is often blocked by piping, equipment or structural obstructions, requiring operation from a location that is not in line with the valve stem. The use of Universal Joints can help solve this situation, as shown by the typical application illustration on the right.
An optional resilient boot is recommended to seal and protect the Universal Joint, while still permitting full motion. The boot is packed with water-resilient grease on-site, keeping out contaminants and maximizing service life. The boot is furnished with stainless steel retainer clamps. Grease is supplied by customer.
Recommended maximum torque is 300 ft-lb. For applications with higher torque requirements, consult Trumbull. Maximum operating angle is 40 degrees.Universal Joints are bored to accept 1-1/4″ rod, but other bore sizes are available upon request.

Universal Joints
| Material | Trumbull item No. | Weight |
| --- | --- | --- |
| Carbon Steel | 367-8352 | 3.65 lbs. |
| T304 SS | 367-8355 | 3.70 lbs. |
| T316 SS | 367-8356 | 3.70 lbs. |
Boot Assembly
Includes two clamps
| Trumbull Item No. | Weight |
| --- | --- |
| 367-8360 | 0.20 lbs. |