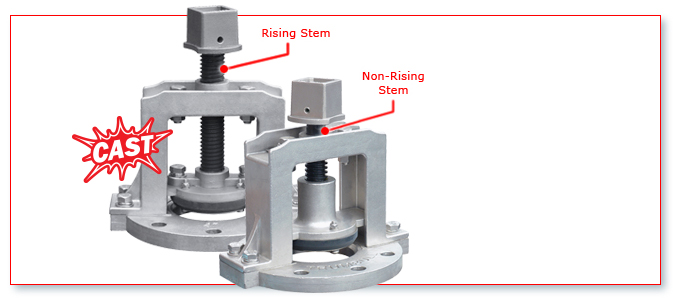 Certified to NSF-61 & NSF-372 in U.S.A. & Canada
TRUMBULL MUD VALVES are designed primarily for use in settling tanks of water and wastewater treatment plants. They are for low pressure applications only; consult Trumbull for special requirements. Their intended use is to drain tanks for maintenance or cleaning.
Due to the corrosive applications in which Mud Valves are used, the yoke, flange, guides and gate are cast from Type 316 stainless steel. The one-piece, Type 316 stem has a permanently bonded coating to protect against galling for a lifetime of maintenance-free operation. Cast components eliminate corrosion problems frequently caused when stainless steel is welded. Castings are passivated after machining, per ASTM A-967. Heavy-duty design incorporates generous wall thicknesses and stem diameters for maximum strength and corrosion protection. Seat is SBR rubber for positive shutoff. Mechanically retained seat is field-replaceable. Fasteners are Type 316 stainless.
Valve position indicators are recommended with mud valves, to provide a visual indication of the valve's position. See position indicator installed in floor box or position indicator installed on a wall bracket.
Nuts, bolts and gaskets for mounting to floor pipe are NOT furnished but can be ordered separately.

Non-Rising Stem
Rising Stem

Size

Domestic

Non-Domestic

Domestic

Non-Domestic

4"

1367-1350

367-1350*

1367-1370*

367-1370

6"

1367-1351

367-1351*

1367-1371*

367-1371

8"

1367-1352

367-1352*

1367-1372*

367-1372

10"

1367-1353

367-1353*

1367-1373*

367-1373

12"

1367-1354

367-1354*

1367-1374*

367-1374

14"

spec/ord

367-1355

*Consult Trumbull for Availability

16"

spec/ord

367-1356

*Consult Trumbull for Availability/

18"

spec/ord

367-1357

*Consult Trumbull for Availability

20"

spec/ord

367-1358

*Consult Trumbull for Availability

24"

spec/ord

367-1359

*Consult Trumbull for Availability
Mud Valves are also available in sliding stem version with bench stand operator. In addition Mud Valve can be adapted for pneumatic cylinder actuator. Click HERE for PDF illustrations. They can also be used with our Universal Joints. See product drawings for weights.