THE PREMIER METHOD FOR PERMANENTLY SEALING PIPES OF ANY SIZE PASSING THROUGH WALLS, FLOORS AND CEILINGS.
TRUMBULL INDUSTRIES is an approved Link-Seal® Modular Seal master distributor. Don't be fooled by "look-alikes". Specify and use original Link-Seal® Modular Seals!
Model "C" Link-Seal® Modular Seal. For use in water and waste water, EPDM Rubber.
Bolts & Nuts: Carbon steel, zinc dichromated with a proprietary corrosion inhibiting coating.
Model "S-316" Link-Seal® Modular Seal. For chemical processing and waste water treatment, EPDM Rubber.
Bolts & Nuts: 316 Stainless Steel.
For NSF 61 Certified Modular Seals, contact your Trumbull Sales Rep

1. Link-Seal® modular seals are shipped as a belt of interconnecting rubber links.

2. Wrap the belt around the pipe and connect the first and last links together.

3. Slide the assembly into the space between the pipe and wall opening.

4. When the bolts are tightened, Link-Seal modular seals expand to create a gas and water tight seal.
Century-Line® Sleeve
Use Century-Line® Sleeves for pipe penetrations in poured concrete walls, floors and ceilings.
All non-metallic (HDPE)
Lightweight, 1/8 weight of steel
Easy for one man to install
Nitrile seal elements, for oil, fuels, motor oil and kerosene, or for low durometer EPDM compound or silicone, see Link-Seal® Modular Seals catalog.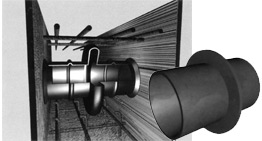 | | Model C | Model S-316 |
| --- | --- | --- |
| Link-Seal® Model No. | Trumbull Item No. | Trumbull Item No. |
| LS-200 | 364-5602 | 364-5702 |
| LS-275 | 364-5604 | 364-5704 |
| LS-300 | 364-5606 | 364-5706 |
| LS-315 | 364-5607 | 364-5707 |
| LS-325 | 364-5608 | 364-5708 |
| LS-340 | 364-5609 | 364-5709 |
| LS-360 | 364-5613 | 364-5713 |
| LS-400 | 364-5610 | 364-5710 |
| LS-410 | 364-5611 | 364-5711 |
| LS-425 | 364-5612 | 364-5712 |
| LS-475 | 364-5614 | 364-5714 |
| LS-500 | 364-5616 | 364-5716 |
| LS-525 | 364-5618 | 364-5718 |
| LS-575 | 364-5620 | 364-5720 |
| LS-615 | spec/order | 364-5722 |
| LS-650 | 364-5623 | 364-5724 |