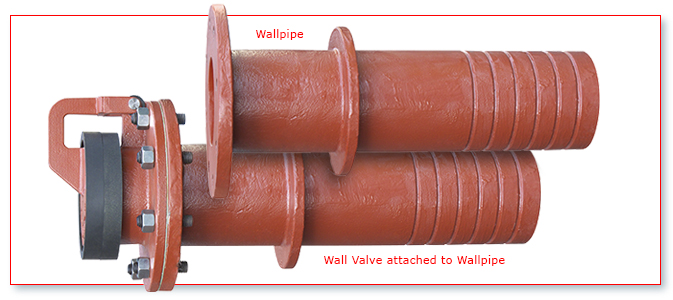 TRUMBULL WALLPIPES are 18″ long (overall) with a collar 6″ from the face of the flange; they can be furnished cut-to-length to meet your requirements. The flange is tapped for studs to allow the flange on the Wallpipe to be set flush with the wall. No flange accessories will be furnished unless ordered separately. Wallpipe and Wall-Type Pressure Relief Valve sold separately. In order for the Wall-Type Valve to operate properly, it must be installed so that the bolt holes straddle the centerline.
Wall pipes are frequently provided by ductile iron pipe suppliers and don't have strainers. The accumulation of debris on the seating surfaces can lead to leakage from the tank. To prevent that condition, specify a valve with an internal strainer.
NOTE: When stainless valves are used, Wallpipes are furnished either in ductile iron or as fabricated from stainless pipe.
Ductile Iron
316 Stainless Steel

Size

Trumbull Item No.

Weight

Trumbull Item No.

Weight

4"

367-1000

33.50 lbs.

Fabricated Stainless

Varies

6"

367-1002

68.50 lbs.

Fabricated Stainless

Varies